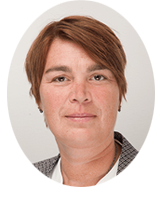 Dr. Ir. Nicole van Nes is Senior Project Manager at the SWOV Institute for Road Safety Research. As Nicole is responsible for the research on safety in the transition to higher levels of automation of the traffic system. Nicole initiated and developed long term research vision for safety opportunities and challenges in the transition towards higher levels of traffic automation. Nicole collaborates with national and international leading institutes in research and industry.
Nicole is heavily involved in international projects and is coordinator of the large scale European Naturalistic Driving project UDRIVE (10M€, 19 partners). This project collects unique data to observe driver behavior unobtrusively in a natural conditions in real traffic.Nicole has also been involved in the European projects Prologue and Interaction.
In 2016 Nicole was seconded to ARRB in Sydney for 3 months to contributed to the Australian Driverless Vehicle Initiative (ADVI). In 2008 and 2009, Nicole was guest researcher for a year at Monash University Accident Research Centre (MUARC) in Melbourne, Australia. Nicole is Member of the Board of HUMANIST Network of excellence, a network of over 20 partners from research and industry across Europe on Human Centred Design for Information Society Technology.
In Taking the Fast Lane project Nicole is the daily supervisor of Paul van Gent, who is working on persuasive lane use advice provision in relation to driver workload and user acceptance.
With a Master study in Industrial Design Engineering (TU Delft) and a PhD in Social Science (Rotterdam) Nicole's research typically has a multi-disciplinary nature, bridging technology and behaviour incorporating the interrelation between road design, vehicle design and human behaviour. She has published in a wide range of journals on a wide range of topics.
• Christoph, M., van Nes, N. & Knapper, A. (2013). Naturalistic driving observations of manual and visual- manual interactions with navigation systems and mobile phones while driving. Transportation Research Record: Journal of the Transportation Research Board, 2365, 1, 31-38, 2013, Transportation Research Board of the National Academies
• Marchau, V., N. van Nes, Walta, L.; Morsink, P. (2010). Enhancing speed management by in-car speed assistance systems. Intelligent Transport Systems, IET 4(1): 3-11.
• van Nes, N., S. Brandenburg and D. Twisk. (2010). Improving homogeneity by dynamic speed limit systems. Accident Analysis & Prevention 42(3): 944-952.
• van Nes, N., Christoph, M., Hoedemaeker, M. and van der Horst, R. (2013). The value of site-based observations complementary to naturalistic driving observations: a pilot study on the right turn manoeuvre. Accident Analysis & Prevention, 58, 318-329, 2013.
• van Nes, N. and K. Duivenvoorde. (2017). Safely towards self-driving vehicles; New opportunities, new risks and new challenges during the automation of the traffic system. R-2017-2E. SWOV, The Hague.
• Vlakveld, W., L. Vissers, K. Hulleman and N. van Nes. An empirical exploration of the impact of transition of control on situation awareness for potential hazards. An experiment about the hazard perception capabilities of drivers after interruption in a video-based scanning task. R-2015-23. SWOV Institute for Road Safety Research, Den Haag, The Netherlands.